Elon Saltillo Terracotta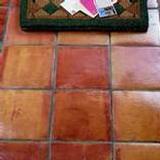 Classic Elon Mexican Saltillo Terracotta.
The tiles are supplied unsealed and will need to be sealed with Boiled Linseed Oil after fixing but before grouting.Apart from protecting th etiles it will also deepen and enhance the tone and colour of the tiles.A final wax polish should be appled after grouting
Our Mexican Terracotta is first quality export grade material made in the same factory for the last 45 years. It is a traditional artesanal product subject to minor surface imperfections and irregularities but it is eseentially a smooth surfaced tile made from the best local clays.It does not have a rough or granular surface.This makes it easy to seal and polish for the competant DIY installer or or builder and there is no need to sandpaper the surface during installation.
We no longer send out small quantities of these clay tiles by courier except for sample requests.All orders are now sent out on pallets by lorry and are subject to a minimum order of 5m2.
Full tile Samples can be sent out by courier for £12.00.Please use the sample order option in the related products below and let us know whether you would like it sealed or unsealed.
Limitd stock ,available for COLLECTION only.
Related products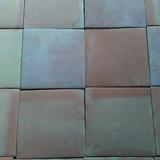 Elon Saltillo Terracotta Samples£11.00 - £12.00More information >