Elon Zellige Terracotta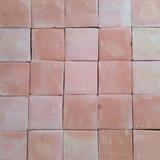 Our Mexican Terracota is now being made available in 12x12cm format. If you are looking for a genuine terracotta in a small format and are struggling with the cost of Moroccan tiles then these are a good alternative.Easier to fix with their smoother more rounded grout joints, you will also make your tiler happy.The image shows the tiles UNSEALED. They can be treated with a clear Lithofin or HG sealer and polish for a lighter look or Linseed and wax for a deeper traditional look.
The tiles are 12x12cm and approx 15-18mm thick.Allow about 65 tiles per m2 with a 5mm joint. The joint width is personal with small tiles but any less than 2-3mm would be problematic but it is quite ok to go larger.