Elon Saltillo Terracotta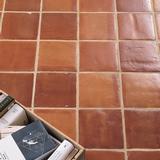 We are stockist of the genuine Elon Terracotta with its distinctive shaded pinks yellows and reds. Traditional production means that tiles are liable to exhibit chips lime pops and minor blemishes.It needs to be sealed with Boiled Linseed Oil and either a polish or wax.
Picture is of 22x22 tile.Standard stock size is 30x30 and is listed below.More information is available on our Mexican Terracotta page.
PRICES ARE NOT SUBJECT TO VAT.