Real Alto Terracotta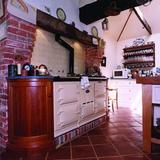 £19. 00/m2 A warm leathery tawny red terracotta tile with a textured surface hand made in Southern Spain. This Terracotta will give a floor the genuine sense of weathered permanance that might only be otherwise possible with a reclaimed tile or Norfolk Pammet. Terracotta is warmer underfoot than either slate or stone.
CURRENT STOCK IS LIGHTER . PLEASE REQUEST A SAMPLE.