Elon Terracotta Octagon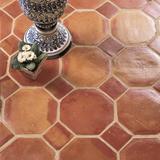 £29. 00/m2. Traditional Octagon and inset format in our Mexican Terracotta. Sealing and treatment is the same as our 30x30 tile. Perfect for areas where a more structured or semi-formal look is required. The inset tiles are approx 12x12cm and are therefore slightly larger than the standard mexican patterned tiles so we would suggest that if they are used it is on an intermittent basis only. Black slate insets can be cut to order. POA.
PRICE REDUCED FROM 29. 00/M2 AND INCLUDES INSETS.